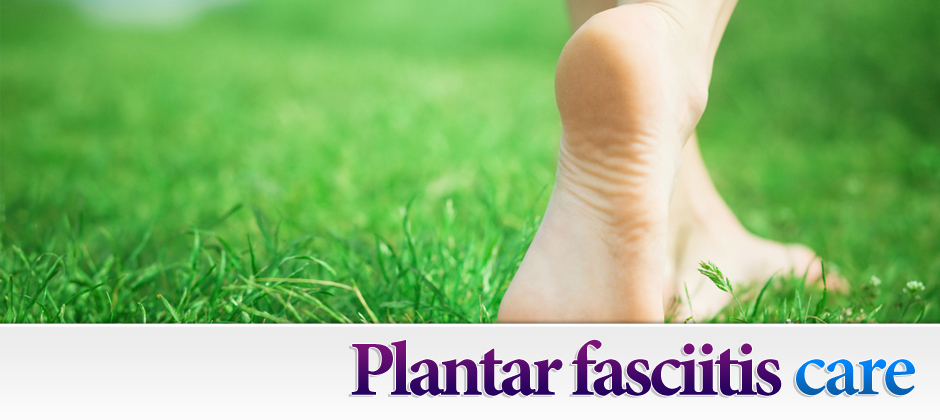 Overview
Plantar fasciitis is the most common cause of heel pain. Pain from plantar fasciitis is often most noticeable during the first few steps after getting out of bed in the morning. The plantar fascia is a thick band of tissue in the sole of the foot. Microtearing at the origin of the plantar fascia on the heel bone (calcaneus) can occur with repetitive loading. This microtearing leads to an inflammatory response (healing response) which produces the pain. Risk factors for plantar fasciitis include excessive standing, increased body weight, increasing age, a change in activity level, and a stiff calf muscle. Plantar fasciitis can be managed non-operatively in the vast majority of patients. The main components of an effective non-operative treatment program are: calf stretching with the knee straight, plantar fascia stretching, activity modification (to avoid precipitating activities), and comfort shoe wear.
Causes
You are more likely to develop plantar fasciitis if you are Active, sports that place excessive stress on the heel bone and attached tissue, especially if you have tight calf muscles or a stiff ankle from a previous ankle sprain, which limits ankle movement eg. Running, ballet dancing and aerobics. Overweight. Carrying around extra weight increases the strain and stress on your plantar fascia. Pregnant. The weight gain and swelling associated with pregnancy can cause ligaments to become more relaxed, which can lead to mechanical problems and inflammation. On your feet. Having a job that requires a lot of walking or standing on hard surfaces ie factory workers, teachers and waitresses. Flat Feet or High Foot Arches. Changes in the arch of your foot changes the shock absorption ability and can stretch and strain the plantar fascia, which then has to absorb the additional force. Middle-Aged or Older. With ageing the arch of your foot may begin to sag - putting extra stress on the plantar fascia. Wearing shoes with poor support. Weak Foot Arch Muscles. Muscle fatigue allows your plantar fascia to overstress and cause injury. Arthritis. Some types of arthritis can cause inflammation in the tendons in the bottom of your foot, which may lead to plantar fasciitis. Diabetes. Although doctors don't know why, plantar fasciitis occurs more often in people with diabetes.
Symptoms
Among the symptoms for Plantar Fasciitis is pain usually felt on the underside of the heel, often most intense with the first steps after getting out of bed in the morning. It is commonly associated with long periods of weight bearing or sudden changes in weight bearing or activity. Plantar Fasciitis also called "policeman's heel" is presented by a sharp stabbing pain at the bottom or front of the heel bone. In most cases, heel pain is more severe following periods of inactivity when getting up and then subsides, turning into a dull ache.
Diagnosis
Most cases of plantar fasciitis are diagnosed by a health care provider who listens carefully to your description of symptoms. During an examination of your feet, your health care provider will have to press on the bottom of your feet, the area most likely to be painful in plantar fasciitis. Because the pain of plantar fasciitis has unique characteristics, pain upon rising, improvement after walking for several minutes, pain produced by pressure applied in a specific location on your foot but not with pressure in other areas, your health care provider will probably feel comfortable making the diagnosis based on your symptoms and a physical examination. Your health care provider may suggest that you have an X-ray of your foot to verify that there is no stress fracture causing your pain.
Non Surgical Treatment
In general, we start by correcting training errors. This usually requires relative rest, the use of ice after activities, and an evaluation of the patient's shoes and activities. Next, we try correction of biomechanical factors with a stretching and strengthening program. If the patient still has no improvement, we consider night splints and orthotics. Finally, all other treatment options are considered. Non-steroidal anti-inflammatory medications are considered throughout the treatment course, although we explain to the patient that this medicine is being used primarily for pain control and not to treat the underlying problem.
Surgical Treatment
Most practitioners agree that treatment for plantar fasciitis is a slow process. Most cases resolve within a year. If these more conservative measures don't provide relief after this time, your doctor may suggest other treatment. In such cases, or if your heel pain is truly debilitating and interfering with normal activity, your doctor may discuss surgical options with you. The most common surgery for plantar fasciitis is called a plantar fascia release and involves releasing a portion of the plantar fascia from the heel bone. A plantar fascia release can be performed through a regular incision or as endoscopic surgery, where a tiny incision allows a miniature scope to be inserted and surgery to be performed. About one in 20 patients with plantar fasciitis will need surgery. As with any surgery, there is still some chance that you will continue to have pain afterwards.
Prevention
There are certain things that you can do to try to prevent plantar fasciitis, especially if you have had it before. These include regularly changing training shoes used for running or walking. Wearing shoes with good cushioning in the heels and good arch support. Losing weight if you are overweight. Regularly stretching the plantar fascia and Achilles tendon, especially before exercise. Avoiding exercising on hard surfaces.